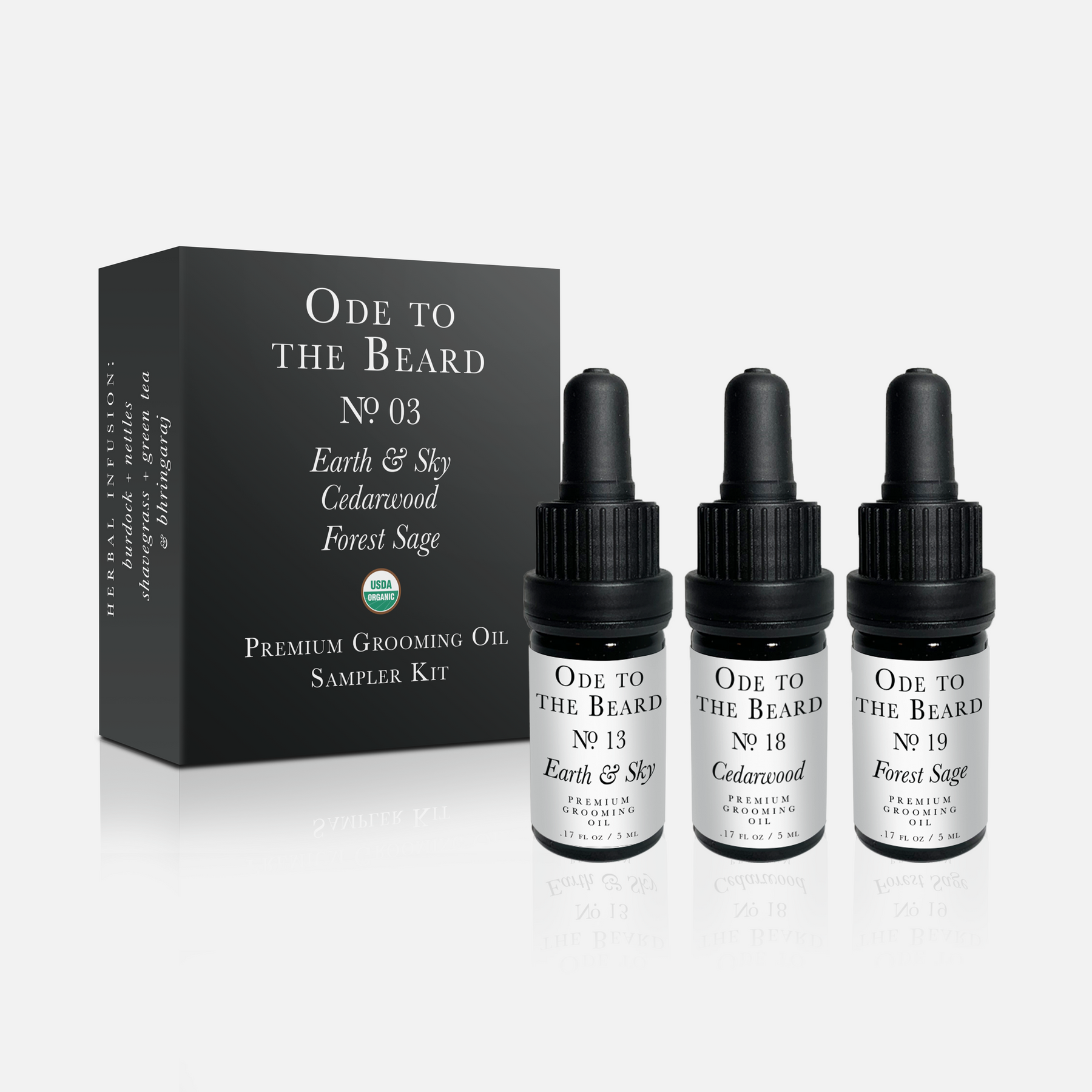 Ode To The Beard Noº 3 Discovery Kit
We offer you a 100-day money-back guarantee. Use our products for 100 days, and if you don't love them, just contact us and we'll give you a full refund. You don't even need to send the products back to us! That's how sure we are that you'll love them!

Not sure which fragrance blend is right for you? Our Discovery Kit is the perfect way to sample each one and find your favorite.
Ode To The Beard's Premium Grooming Oil is your ultimate multi-purpose grooming solution. It is a 3-in-1 Beard Oil, Preshave Oil & Aftershave Balm available in three different fragrances expertly crafted by our in-house Certified Professional Aromatherapist:
Earth & Sky

 

- Unscented, but with the subtle aroma of the pure, organic botanical oils and healing herbal infusion blend.
Cedarwood

 

- An intoxicating and complex blend of warm cedar and sandalwood paired with luxurious citrus and botanical notes.
Forest Sage - A radiant evergreen blend of spruce and pine with notes of dried fruit and fresh, herbaceous, light, smoky undertones.
Eight botanical oils, including Argan, Jojoba, and Baobab are infused with clinically proven powerful herbs Burdock Root, Nettle Leaf, Shavegrass, Green Tea, and Bhringaraj to nourish, soften, soothe, moisturize, and protect both your skin and facial hair.
USDA Certified Organic + PETA Certified Cruelty-Free & Vegan