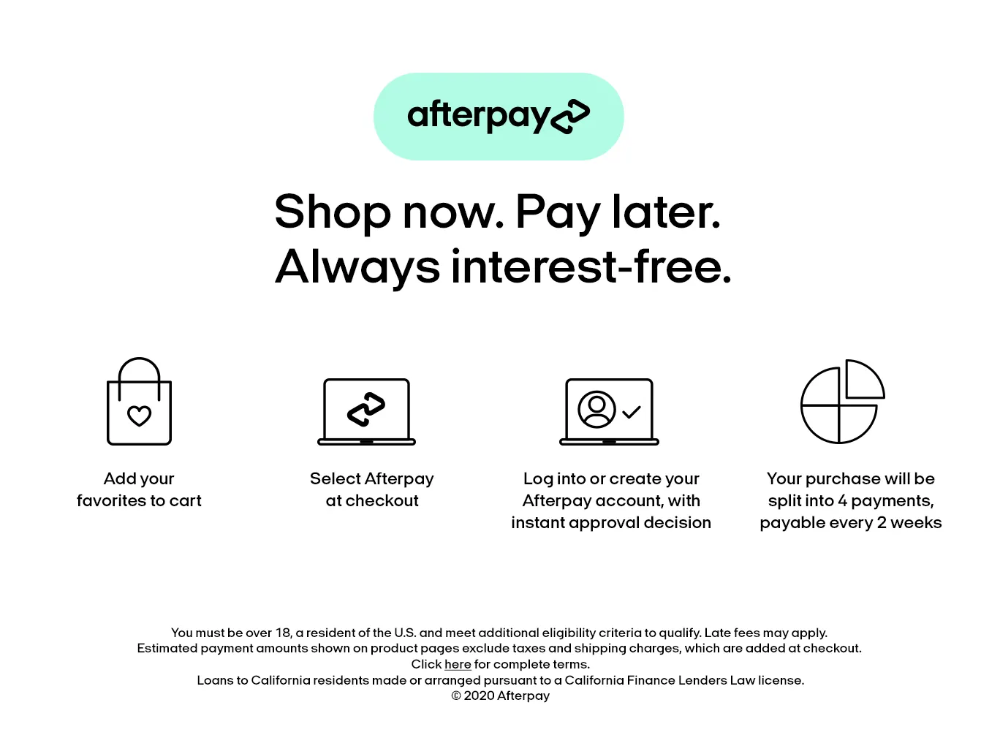 Please Click Here For Afterpay's Full Terms Of Service
FAQ's
What Is Afterpay?
Afterpay is a service that allows you to make purchases now and pay for them in four equal payments made every 2 weeks without any interest.
When Will I Receive My Products?
We will ship your products within our standard shipping timeframe, which is usually within 1-2 business days of receiving your order.
Can I Use Afterpay If I Am An International Customer?
Afterpay is only available to customers who are 18 years of age or older with a U.S. Billing and Shipping Address.
How Much Can I Spend On A Transaction With Afterpay?
You can spend between $35 and $1,000 USD in a single transaction.
What Is The Return Policy For Products Purchased Using Afterpay?
All orders made using Afterpay still receive our amazing 100-Day Money Back Guarantee. Click here for details.
What Happens If I Can't Pay One Of My Installments?
If there are insufficient funds or your payment is late, Afterpay may charge you a late fee. Please see their Terms of Service for more information.
Who Do I Contact If I Have A Problem Or Question Regarding My Afterpay Account?
Please contact Afterpay directly.
WE LOVE OUR CUSTOMERS, AND THEY LOVE US BACK!
"Magic in a bottle!
I cannot rave enough about this product!"